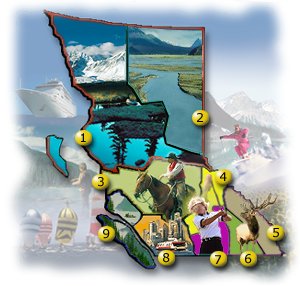 Choose a BC region and discover mountain biking excitement in British Columbia, Canada.
Mountain biking, like surfing and skateboarding, started in California, in the mid 1970's and since then, the sport has gained popularity and taken on a personality of its own. Mountain biking become a fast growing sport and past time in British Columbia. This is due to many factors. First and foremost, the terrain in BC makes for great mountain biking. The scenery is spectacular, no matter where you go. The BC weather plays an important role, as there are places in the province where you can mountain bike for ten months out of the year.
The numerous clubs throughout BC are very active and maintain trails in their region. Bikes and equipment have changed to meet the need of the sport and there are hundreds of bike shops in the province. This all adds up to excellent off road mountain biking in British Columbia.