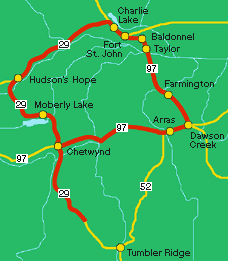 DINOSAURS & DAMS TOUR
1 day
Depart Fort St. John (73 km/46 miles) for Hudson's Hope on BC Highway 29 (75 km/47 miles).
This is the most scenic route in the area as the highway meanders through the Peace River Valley. When in Hudson's Hope, explore the Playground of the Peace; fish, hike, bike, and relax on the banks of the mighty Peace River.
Tour W.A.C. Bennett Dam, one of the largest of its kind in the world, creating Williston Lake and 1200 kilometers of shoreline. Tour the Peace Canyon Dam, the life size dinosaur displays and the incredible miniature museum of Pioneer Days. Both dams are just west of Hudson's Hope.
Moberly Lake, approximately 40 km. south of Hudson's Hope on Highway 29, offers camping and has wheelchair access. Reserve ahead if possible, as this is a popular campground.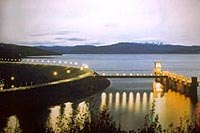 W.A.C. Bennett Dam
Photo Courtesy of Northern BC Tourism
Gwillim Lake is 105 km/65 miles south of Chetwynd (130 km/80 south of Moberly Lake) offers a refreshing, although chilling dip in one of the North's sparkling lakes.
Return to Fort St. John by the same route, or continue the Northern BC circle route from Chetwynd by driving east on Highway 97 to Dawson Creek and Fort St. John (approximately another 170 km/106 miles travelling via Highway 97).
Be sure to browse the Points of Interest:
Read a Travelog: