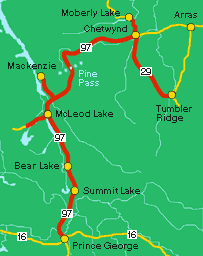 NORTHERN BC'S WATERFALLS & FISHING POLES TOUR
3 - 4 days
Depart Prince George, heading north on BC Highway 97. Enjoy many recreational opportunities for fishing and hiking along this scenic route.
At McLeod Lake, 137 km/86 miles north of Prince George, a 29 km drive off the highway west towards Carp Lake Provincial Park takes you to the spectacular War Falls. Camping is available both in the provincial park and the numerous BC Forest sites in the area. For a full description of the sites in this area, obtain a BC Forest recreation map from the Mackenzie Forest District and Prince George Forest District.
The Crooked River and surrounding lakes provide fishing for char, rainbow trout, brook trout, and arctic grayling. A boat launch at Whiskers Provincial Park on McLeod Lake is close to the road.
There are a number of family activities available in Mackenzie (186 km/116 miles north of Prince George), including llama trekking, hiking, fishing, biking, and canoeing. Explore BC's Williston Lake, one of the largest man-made reservoirs in North America. To reach Mackenzie, take Highway 39 from its intersection with Highway 97. The town sits 29 km/18 miles from the intersection, at the end of Highway 39.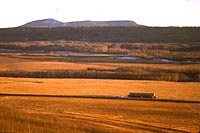 Chetwynd countryside.
Photo Courtesy of Wayne Sawchuk
Returning to Highway 97 north, your next stop is Chetwynd (149 km/93 miles from the intersection of Highway 39 and Highway 97). Stop at the scenic Bijoux Falls which provide excellent photographic opportunities. Azouzetta Lake and Pine River provide many opportunities to stop and relax in the mountain sunshine.
Moberly Lake Provincial Park, (25 km/16 miles north of Chetwynd) offers swimming and fishing. There are 109 tent/vehicle sites, but it is a popular park, so reserve ahead of time.
Depart Chetwynd for Tumbler Ridge on Highway 29 south turning off onto the Sukunka Forest Road for a scenic 17km/11 miles) drive along the River to the beautiful Sukunka Falls. Stop at Gwillim Lake (approximately 60 km/38 miles south of Chetwynd) for a picnic lunch.
Return to Prince George and points south by the above route.
Be sure to browse the Points of Interest:
Read a Travelog: